Tru-Ram Small Block Chevy SBC 350 Exhaust Manifolds, Unpolished Stainless Steel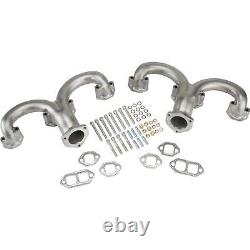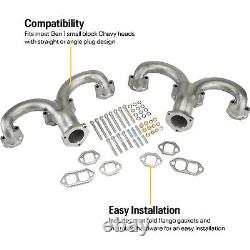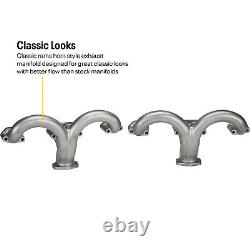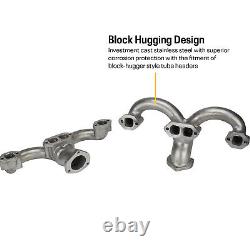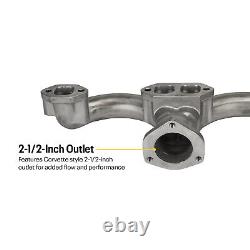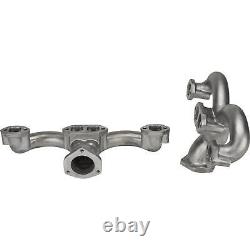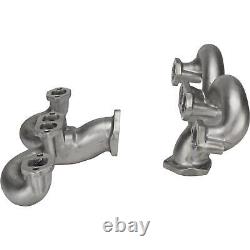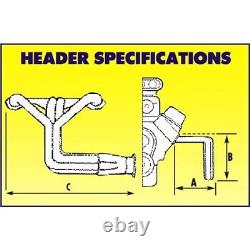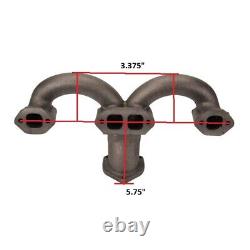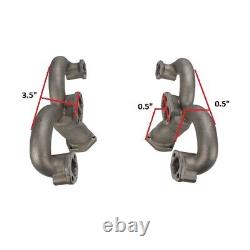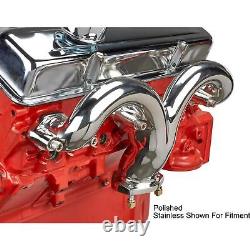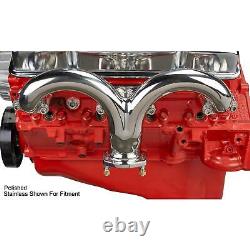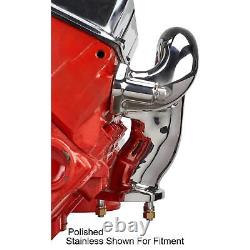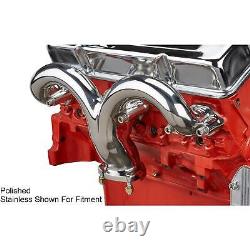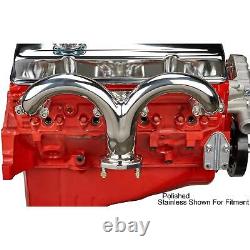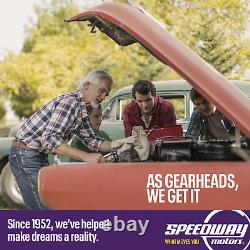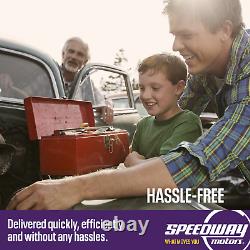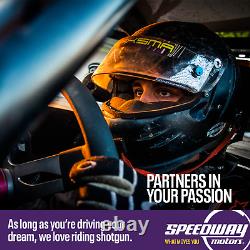 Classic rams horn style exhaust manifold designed for great classic looks with better flow than stock manifolds, Features Corvette style 2-1/2-inch outlet for added flow and performance, Fits most Gen 1 small block Chevy heads with straight or angle plug design, Investment cast stainless steel with superior corrosion protection with the fitment of block-hugger style tube headers, Includes manifold flange gaskets and mounting hardware for an easy installation. Tru-Ram® SBC Exhaust Manifolds, Unpolished Stainless. Smooth exterior finish with no exposed brackets or bolt holes for a clean appearance.
Fits most factory Gen 1 SBC heads including Vortec heads. Ample clearance for both straight and angled spark plug applications.
1-3/8-inch by 1-3/8-inch square port design can be port matched to your heads. Increased flow over stock manifolds and utilizes Corvette-style 2-1/2-inch 3-bolt collector. Investment cast stainless steel construction prevents corrosion. Design tucks collector close to block like a "block hugger" header.
Includes fasteners and exhaust flange gaskets for an easy installation. Natural stainless steel surface finish can be polished or ceramic coated. Low Profile Exhaust Manifolds That Provide Great Clearance with A Classic Appearance.
If you've spent any time at all installing tubular steel headers on a car you know what a pain in the backside they are. They often hang too low, hit your steering box, or must pass through your steering or clutch linkage, and don't even get us started on blown out header gaskets and must constantly check and tighten header bolts. Are tubular headers worth the hassle? For most of us however, a good "block hugger" header will suffice. These header designs are known for being easier to install and have few drawbacks (except those often leaking header gaskets).
But even the block hugger header can look out of place in some builds, especially those early pre-war cars with open engine bays. You can give your small block Chevy the best of both worlds by using our smooth looking investment cast stainless steel Tru-Ram® rams horn exhaust manifolds. These clean sheet design ram horn manifolds provide the same "block hugging" design while offering a period exhaust manifold look that fits right in. Not to mention the stainless steel construction has many benefits over the tubular steel header, including less chance of cracking and higher corrosion resistance. Add in our high flow design with large 2-1/2-inch Corvette-style exhaust collector and it is easy to see how our Tru-Ram® rams horn exhaust manifolds are hard to beat for the price, clearance, and great fit. Fits Most Straight and Angle Plug Gen 1 Small Block Chevy Cylinder Heads. The factory cast iron SBC exhaust manifold will often have extra mounting holes/ears cast into it, either causing fitment issues or just plain ugly looking. Stock manifolds also are cast for specific chassis and engine combinations, again potentially causing fitment issues.
Our Tru-Ram® rams horn stainless steel exhaust manifolds are designed from the start to fit most factory head castings, be they straight plug or angled plug, while providing greater flow and power production than the typical stock SBC exhaust manifold. With plenty of material around the 1-3/8-inch square exhaust flange port you can easily port match these to your heads for greater exhaust flow. The larger 2-1/2-inch Corvette style 3-bolt collector works with standard 3-bolt collector gaskets included in our, or. We also offer our 2-1/2-inch reducers in versions if you're looking to run a complete stainless steel exhaust system on your ride. This complete kit includes a pair of investment cast stainless steel Tru-Ram® ramhorn manifolds, stainless steel socket head cap screw mounting hardware for the manifold and steel studs with brass nuts for the collector, and exhaust flange gaskets.
Everything you need to easily install your ram horn manifolds without the stress and frustration of trying to fit tubular headers. Plus, there's no denying these Tru-Ram® ramhorn manifolds look so right on SBC powered hot rods and classic trucks. Choose from the unpolished stainless steel manifolds offered here, or we also offer a stainless steel model as well. If you prefer a of our Tru-Ram® rams horn manifolds we offer those too. The exhaust port size is square and large enough for most round port heads.
It measures 1.375" x 1.375" and should be sufficient for most small block cylinder heads. Variation in location of spark plugs on aftermarket heads makes it impossible to verify that the Tru-Ram® will fit all heads on the market, but it will clear most straight and angle plug heads. 3-1/2 from cylinder head surface to outside point. 3-1/2 from bolt center to top of manifold.
5-1/2 from manifold bolt center to bottom of collector. 2-1/2 collector uses standard header reducers. Will not work with GM D-shape "fast burn" heads. A great place to do business.
By Hey You on September 23, 2021. These fit the bill for my sbc w/sm465 into a cj7. They give me the option of single or dual exhaust within the protection of the frame rails.
Works good for sbc swap into a cj7. Yes, I recommend this product. By Mike on June 15, 2021.
Plan to have them hot jet coating would be super, cast iron would be good enough but much better made of stainless steel. Would stay nice if hot jet coat. By Johnny hotrod on January 16, 2021. The fit is perfect on these old school look. By Hank on May 15, 2020.
These will help you tuck the exhaust close to the engine. This product fit my project and solved clearance issues. By Doug on February 11, 2017. My project had clearance problems. No headers would clear the PS box. Related Items / Suggested Parts. Tru-Ram® Small Block Chevy Exhaust Manifolds, Cast Iron.
Tru-Ram® SBC Exhaust Manifolds, Polished Stainless. Corvette Style 2-1/2 Inch Ram Horn Exhaust Manifold. Tru-Ram® Small Block Chevy Exhaust Manifold Gasket Set. Stainless Header Reducer Kit, 2-1/2 to 2 Inch. Speedway Motors is America's Oldest Speed Shop® and has been a trusted source for specialty rodding and racing products and friendly expert advice for more than 71 years.

---