Small Block Chevy Serpentine Pulley Conversion Kit ALT PS A/C Long WP SBC LWP AC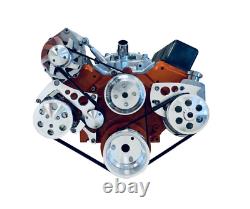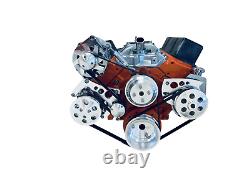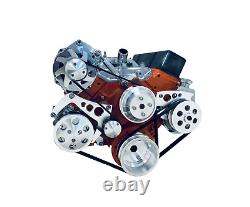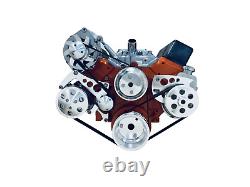 Small Block Chevy Long Water Pump Serpentine Conversion Kit Alternator, Power Steering & A/C. Small Block Chevy Long Water pump Alternator and A/C bracket made from 5/8 thick Aluminum. Power steering bracket made from 1/2 thick aluminum. We added a rear support to avoid any deflection. 6 ribs pulleys are made from solid round aluminum bar 6061-T6. Small Block Chevy engines 283, 302, 305, 327, 350, 400. Works with GM Alternator 6 and 12 O'clock (GM 1 WIRE ALTERNATOR, CS130 ALTERNATOR). Require Keyway P series Saginaw Power Steering pump. Require Peanut 7B10 style AC Compressor. Brackets will not work with fuelie or camel hump heads. (Brackets require holes on heads).
All hardware require to install. Water pump is not included. Power steering pump is not included.

---