Small Block Chevy Serpentine Pulley Conversion Kit Alt Only Long WP SBC LWP 3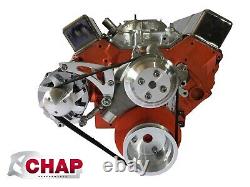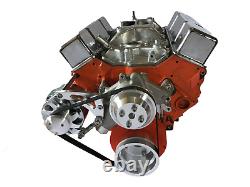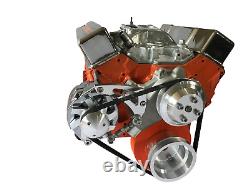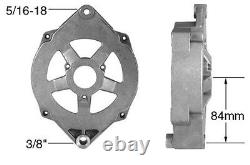 SMALL BLOCK CHEVY SERPENTINE CONVERSION PULLEY KIT ALTERNATOR ONLY LWP. SERPENTINE CONVERSION PULLEY KITS ARE HERE. PULLEYS HAVE THE SAME GREAT QUALITY AS THE BRACKETS. SMALL BLOCK CHEVY LONG WATER PUMP MID MOUNT ALTERNATOR BRACKET KIT PASSENGER SIDE. THIS BRACKET HAS BEEN CNC MACHINED IN USA.. MADE FROM 1/2 6061-T6 ALUMINUM. 6 RIBS PULLEYS ARE MADE FROM SOLID ALUMINUM 6061-T6.
WORKS WITH GM ALTERNATOR, 6 AND 12 O'CLOCK: MEASURES 6 5/8" (6.6" OR 168mm) FROM THE CENTER OF THE PIVOT HOLE TO THE CENTER OF THE ADJUSTING HOLE. WHY SPEND SO MUCH WHEN YOU CAN HAVE A NICE CNC BRACKET KIT FOR YOUR HOT ROD FOR THE RIGHT PRICE.. BRACKET WILL FIT LONG WATER PUMP ONLY..
BRACKET WILL NOT WORK WITH FUELIE OR CAMEL HUMP HEADS.. (WILL NEED A SECOND BRACKET TO WORK). 283, 302, 305, 327, 350, 400. ALL HARDWARE REQUIRE TO INSTALL. WATER PUMP IS NOT INLCUDED.

---