SB Chevy Intake Manifold Dual Plane 1955-86 Small Block 283 305 327 350 400 V8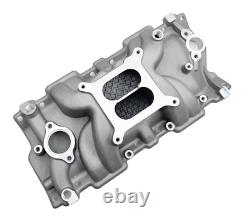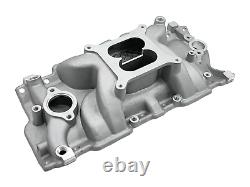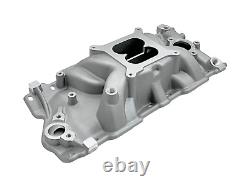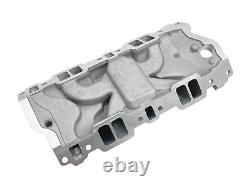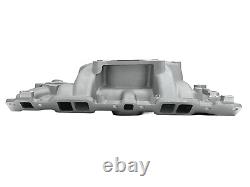 1955-86 SB Chevy Intake Manifold Dual Plane - Satin. Fits: 1955-86 Small Block Chevy 262-265-267-283-302-307-327-350-400 V8 Engines. Also Fits 1987-Up stock aluminum heads. (does not fit 1987-Up cast iron or Chevrolet Bow Tie heads). Designed for 23 Degree Heads with Standard Port Location.
4150/4160 Square Bore Carburetor Flange. Port exit dimensions: 1.170" x 1.90".
Estimated runner length - Shortest: 4. Estimated runner length - Longest: 7. Manifold height: Short Side 4.290", Tall Side 5.310". Accepts late model choke, water neck, AC, alternator and HEI Distributor. No Provision for Divorced or Heated Choke. Does NOT come with mounting bolts, intake/head gaskets or any other component. Stock/stamped steel valve covers may require 3/16 or thicker valve cover gaskets. Intake gasket port matching is recommended for better performance.

---