Holley 300-25 Holley Strip Dominator Intake 4500-7600 RPM Chevy Small Block V8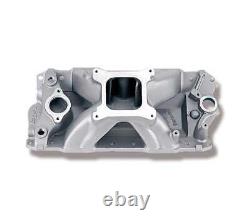 Small Block Chevy Engines 262-400. Photo is for representation only. Actual product condition may vary. Product is like new with little or no apparent surface defects.
Single Plane with Isolated Plenum. Square Bore Carburetor Mounting Flange. Height: Front 5.11", Rear 5.97".
Port Size: 2.05" height 1.22" width. Scratch & Dent Product Condition Definition. Scratch & Dent items are NOT old worn-out items that are being resold. Other facts about Scratch and Dent items.
May contain scratches, blemishes, and other visual flaws. Scratch & Dent items may not be in original packaging. May be missing small installation or accessory parts.
Due to the volume of items being listed, we unfortunately cannot photograph these parts individually and are unable to give specifics on their condition. Please let us know of any issues you may have before leaving feedback so we have an opportunity to rectify the issue.

---