Chevy Small Block SBC Complete Chrome Steel Pulley, Bracket & Pump Kit Long Pump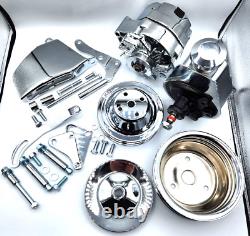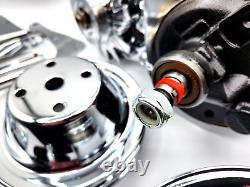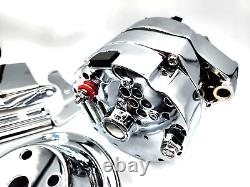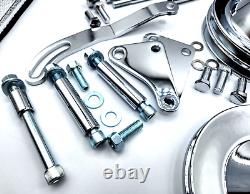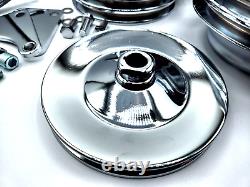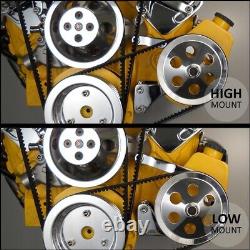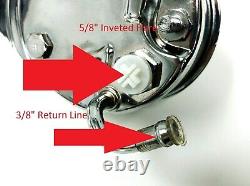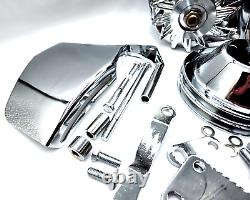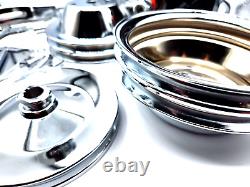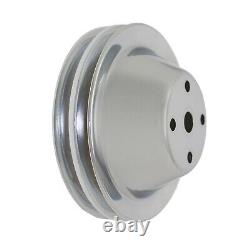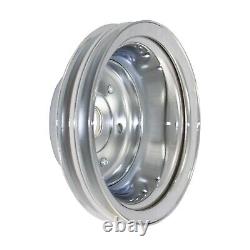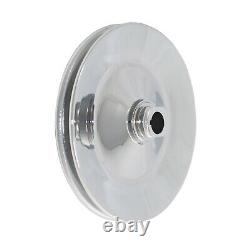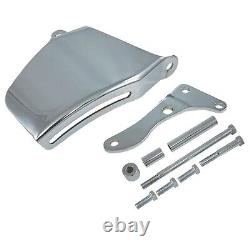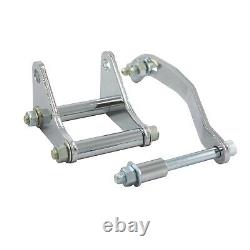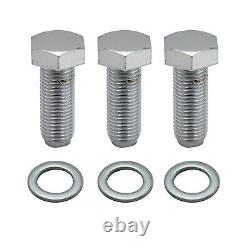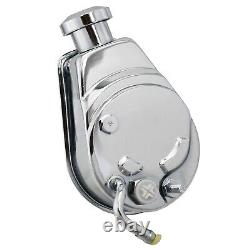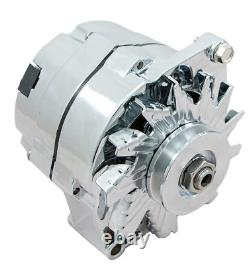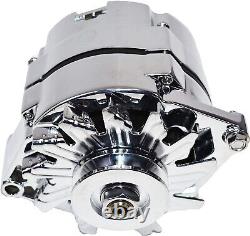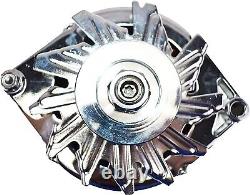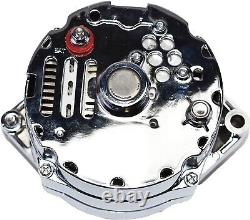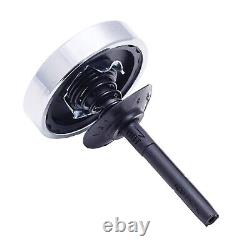 Water Pump Pulley kit With. Chrome Power Steering Pump +. This Pump Uses The 5/8 Keyed Shaft For The Pulley. 5/8" Inverted Flare Hose Inlet, 3/8" Hose barbed outlet. 1975 and later vehicles will require a new hose to go from a metric O-ring style to the 5/8 Inverted flare. SPECIFICATIONS: 100 Amp/12 Volt, CW, 1-Wire System, Chrome, 1-Groove Pulley. FEATURE 3: Self exciting, 1-wire hookup or oem 3 wire.
1 One chrome plated steel alternator bracket complete with mounting hardware. Must have accessory hole in passenger side cylinder head.. Alternator bracket will NOT work! 2 One chrome plated steel power steering bracket complete with mounting hardware.
Power steering Bracket mounts to the lower left front of the block using the two lower bolt holes located by the timing chain cover (the old front motor mount holes). The adjusting arm mounts to the lower water pump hole. Bracket will fit a wide range of applications due to its two mounting positions: LOW and HIGH. This kit is designed to work on vehicles with Small Block Chevy engines with a long water pump.
Fits most engines with a long water pump 1969 to 1986. Will not fit Vortec engines. This kit is not for use with A/C systems. This kit consists of a 10 pieces.
Chrome 1 or 3 Wire 100 Amp Alternator. 1 Chrome Steel Groove Key Way power steering pump pulley. 2 Chrome Steel groove water pump pulley and bolts. 2 Chrome steel groove crank pulley.
Chrome Steel Power Steering Pump Bracket. Including All Items in the picture.

---