Accel 9011C 8mm Ceramic Boot Spark Plug Wires Small Block Chevy 305 350 400 HEI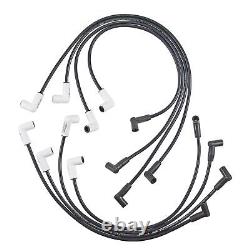 Accel 8mm Extreme 9000 Heat Reflective Black Ignition Wire with Ceramic Boots. ACCEL now offers the cure for burnt spark plug boots with Extreme 9000 Ceramic wire kits.
The 8mm Ferro-Spiral core wire now has ceramic boots on the spark plug end of the wires. Ceramic boots withstand up to 2,000 degrees. Great for running headers with close tolerances, an engine bay with little room, or an RV with boots that melt because of heat. Ultra high temperature double silicone construction wire rated at 600 degrees fahrenheit peak. 500 ohms/ft Ferro-Spiral core developed for performance use. Stainless steel spark plug terminals for maximum spark energy to the plugs.
Pre-made to factory lengths for a perfect fit. Ceramic boots withstand up to 2,000° Fahrenheit. 8mm double silicone construction black wire rated at 600° F rated. 500 Ohms/foot ferro sprial core offers the highest level of RFI/EMI suppression. IMPORTANT : This item will fit ONLY those applications provided below and will not fit any other applications.

---