1980-85 SBC Small Block Chevy 283-350 Short Polished Finned Engine Dress Up Kit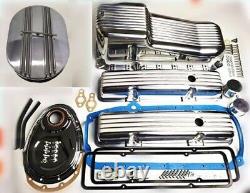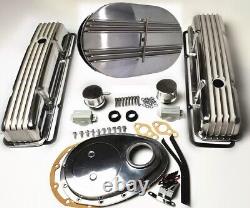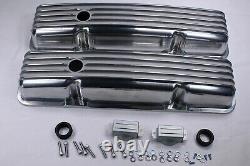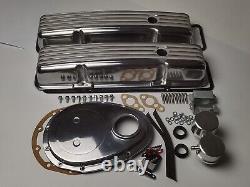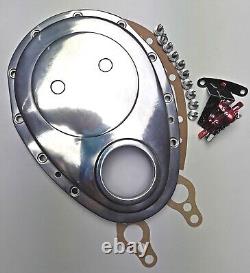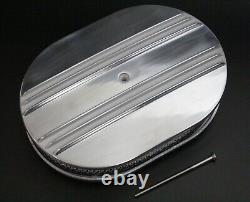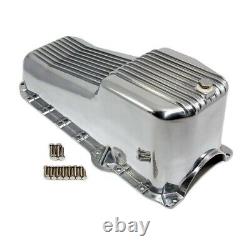 1980-85 SBC Small Block Chevy 283-350 Short Polished Finned Engine Dress Up Kit. Polished Aluminum Retro Finned Oil Pan. Small Block Chevy 283 327 305 and 350 engines. Stock style 4 quart pan capacity.
2 pc rear main seal. Uses early "thin" front seal. Drain plug and mounting bolts included. Valve Covers, Air Cleaner and Breather & PCV Combo Kit.
Brand new pair of Nostalgic Finned Small Block Chevy and Pontiac Black Aluminum valve covers and a 12 Finned Air Cleaner Kit. These Valve covers and Air Cleaner both have a nice, black finish and includes all the necessary hardware. Short Valve covers are finned, have a height of approximately 2-9/16", 1-1/4" Breather Holes on each cover, and Includes Baffles, Hardware, & Grommets.
The Matching Oval Air Cleaner measures approximately 12" Long x 8 1/4" Wide x 3" High tall(with 2" Tall paper element filter) and has a Two Rows of Raised Fins along the top. This air cleaner is designed to fit most stock and aftermarket carburetors with a 5 1/8'' diameter carb neck like most Edelbrock, Holley, Rochester, Quadrajet, and Carter four barrel carburetors.
It also has a raised base to raise the air cleaner above the carb flange. Comes with stainless Allen Head bolt for mounting, and Filter.
This also includes a brand new. Aluminum PCV Valve and Breather Combo.
(1) Breather with Built-In PCV. (1) Breather with Replaceable Filter. (2) Rubber grommets for mounting. These Tight Fitting Breathers Measure 2.5" DIA X 2.5" TALL. They have a 1" Tube for 1-1/4" Valve Cover Holes.
Are beautifully polished and have a very cool design. They also have a unique shape that will add a cool look to your valve cover.
SB Chevy Timing Tab with Pointer. Damper Size: 7" & 8".
Chrome Tab / Red Pointer. Additionally this includes a set of rubber valve cover gaskets with a steel core. These are for early model Small Block Chevy engines, and they will not work with center bolt valve covers. These are much stronger than standard cork gaskets and will provide a much tighter seal. The steel core ensures long life. These gaskets are so durable that they can be removed and used on another vehicle years down the road. Aluminum Timing Chain Cover Kit. Fit SB CHEVY 265,283,327,350,383, & 400 engines. Includes cover, bolts, seal, and gaskets. This Kit would be a great addition to your Classic Small Block Chevy. Aluminum Oil Pan(include gaskets).
Aluminum valve covers(include Bolts and Baffles). Aluminum Breather/PCV Combo(include Rubber grommets). Pair of Steel Core RUBBER Valve Cover Gaskets. Timing Chain Cover Kit(Include cover, bolts, seal, and gaskets). Steel timing tab with Pointer kit.
Professional Installation is Highly Recommended.

---